Vineyard Manager
Tina Hutchinson
Auckland, New Zealand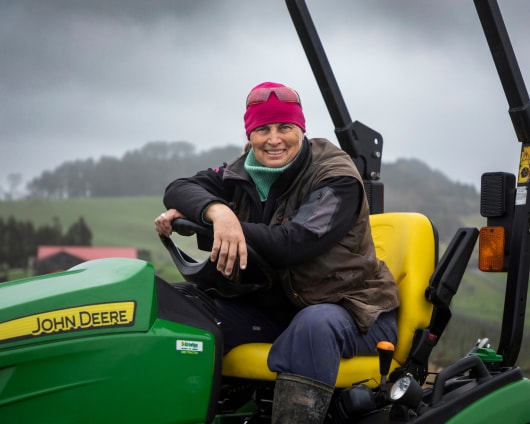 A perfectly groomed, lush kikuyu lawn that forms a rolling green carpet over nearly five hectares is at the heart of the success of world-class tourist attraction, Sculptureum, on New Zealand's North Island.
Flowing around three sculpture-filled gardens, six art galleries, a six-hectare vineyard and three eateries, the lawn must look immaculate but also be able to withstand the foot traffic of visitors and flourish in a cool climate with high rainfall and humidity.
Sculptureum's vineyard manager, Tina Hutchinson, said that required plenty of work behind the scenes.
"We have two gardeners who do all the mowing work and they keep the kikuyu short and compact, using a combination of machines including push mowers, zero-turn ride on's and a John Deere 1025R tractor in the larger areas," Tina said.
Tina said fertilising the lawn with seaweed-based liquid tonics keeps it healthy and helps to mitigate problem issues like grass grubs and moss.
"At Sculptureum we pride ourselves on creating grounds and gardens that enable our guests and staff to gain some small relief from the pressures of life, through contemplating words of wisdom and art forms."
How to mow efficiently
Tip 1: Trim the edges first, and vary your mowing direction
Do two passes with the mower around the outside first, to give you room to turn the mower around when you're cutting the main part of the lawn. Choose whether to mow in stripes, end-to-end, or in circles, which is probably the easiest and most efficient way because you don't need to make sharp turns. Some experts suggest changing direction each time you mow, so if you mow up and down one week, mow across it the next time, or diagonally. This prevents grass from growing in one direction and reduces the likelihood of permanent tracks from the mower wheels. If you want straight lines, pick a spot like a tree or post across the other side of the lawn, and walk or drive straight at it.
Tip 2: Set the blades high and keep them sharp
Only cut the top third of the grass each time you mow, to encourage the lawn to develop a deeper root system. Long blades of grass also shade and cool the soil, which means weed seeds are less likely to sprout and water doesn't evaporate as quickly. Keep mower blades sharp. Blunt blades rip through the grass instead of slicing it cleanly. Regularly sharping blades can also decrease fuel consumption. A mower tune-up and blade sharpening once a year will stand you in good stead. And wash or brush down your mower after each use. Be sure to always wear hand and eye protection when completing any maintenance work.
Tip 3: Don't mow to a schedule
Mow as often as needed for your grass type, growing conditions, growth pattern, and season. When grass is growing fast in Spring, you might need to mow twice a week. At the height of summer, growth slows and you may only need to mow once a week or fortnight. When mowing a new lawn, give it a chance to establish its roots. Don't cut it shorter than 5cm for the first few times, and go over it slowly and carefully.
Tip 4: Mow the lawn when it's dry
The best time of day to mow a lawn is in the early evening. Mowing in the heat of the day stresses the lawn, but late in the day the lawn is dry and has plenty of time to recover overnight before the next day's heat. Lawns are usually wet in the morning from dew or fog. Mowing wet grass can result in an uneven cut and the clippings can also clog your mower and cause it to dump clumps of grass on your lawn.
Tip 5: Mow safely
Wear closed-in shoes, sunglasses and ear protection to prevent any injury while mowing. Keep an eye out for pets and children – you may not hear them over the noise. While it may seem helpful, don't allow children to ride on equipment until they are over 16 years of age. When using a push mower, mow forward whenever possible. When mowing on a slope, move slowly from side-to-side instead of up and down. Avoid turning, starting, or stopping on slopes. When turning, don't allow the mower deck to be on higher ground than you are. Watch out for bumps and obstacles that may cause a rollover. Avoid mowing on slopes near ditches, embankments, or other uneven terrain types. If you do have children, remember, they are likely to imitate their parents. For your own safety's sake, as well as the good example you set, make sure safety starts in your own backyard first.
Read more about Tina's Story